Though the 2020 ESDRI symposium pivoted online in response to the COVID-19 pandemic, not all sessions were able to be immediately replicated virtually. However, the organizers of the symposium still want to share insight into the range of speakers and sessions that were planned, both because we still hope to make space and time for these sessions in the future and to demonstrate the energy and impact of ESDRI and those involved. Please review the session and speaker summaries below.
Description: 
Biotechnology presents a dynamic new set of solutions to material challenges ranging from the body to the nonhuman realm and environment. Despite its ingenuity, biotechnology alone cannot provide complete solutions to the challenges we face in the 21st century, nor does it meet every aspect of our needs. While the radical potential of biotechnology can partly be achieved through new tools, the frameworks for the practice of biodesign are also important in generating systemic transformation in how we work and live. As an expression of "living" systems, biodesign interrogates biotechnological innovation by holding ideas to account, and particularly, in exploring the potential opportunities and dangers of manipulating life. Embracing more than human-centered practices, which have dominated the field of design, biodesign also creates the conditions for developing more inclusive, multiperspective, technologically convergent approaches that open up new spaces for innovation, and challenges some of the fundamental premises that shape our current concepts and practices about life and technology. Drawing on a range of examples, this talk outlines its multidisciplinary, convergent, radically creative nature and how it asks searching questions of what it means to be "human."
Image
Speaker: 
Rachel Armstrong, Professor, Newcastle University 
Image
Rachel Armstrong is professor of experimental architecture at the School of Architecture, Planning and Landscape, Newcastle University, United Kingdom, who explores how buildings can incorporate some of the properties of living systems to become "living architectures." She was coordinator for the FET Open Living Architecture project (April 2016-June 2019) and coordinates the EU Innovation Fund ALICE project. She is a Rising Waters II Fellow with the Robert Rauschenberg Foundation (April-May 2016) and a 2010 Senior TED Fellow. She is also a member of the Hub for Biotechnology in the Built Environment at Newcastle University and director and founder of the Experimental Architecture Group (EAG), whose work has been published and exhibited internationally.
 
---
Description: 
Explore biodesign concepts through presentations and discussions. Practitioners from diverse backgrounds, ranging from industry to academia, will address various topics related to biodesign, including bioart, biofabrication and biomimicry and will feature the showcase of contemporary and innovative projects.
Morning Speaker: 
Title: Raw. Programmable Matter, Culture, & Nature
Maria Paz Gutierrez, M.Arch., Associate Professor, University of California, Berkeley
Image
Presentation Description: 
The frontier of natural material invention is experiencing exponential growth. As costs of synthetic matter continue to rise, and environmental awareness increases, the innovation of carbon-neutral materials is ever more attractive. Traditionally, natural materials and techniques in the built environment have relied on onsite experimentation and skilled labor, often paired with insufficient technical data, specifications, and standardization. While this tradition has supported creative economies, craft, and local sourcing of sustainable materials, 21st-century environmental and socioeconomic demands are unprecedented. Natural materials must also deliver on cost performance and supply for mainstream uptake to become competitive for future applications. Advances from the nano to the large scale in material computation and digital fabrication provide radically new opportunities in cost and supply mainstream uptake for natural materials. From cellulose nanofibers to implantable devices, the domain of natural materials innovation strives to create paradigm shifts in multifunctional capabilities of matter and opens new prospects for exploring the material culture and the reclamation of traditional craft.
As we strive to advance multifunctional capabilities from mechanics to interfacing, we are programming natural materials for unprecedented functionalities. This presentation will discuss the work of M. P. Gutierrez's research (BIOMS group founder) in the frontier of natural material innovation addressing health, environmental, and socioeconomic paradigms in future material cultures. Her work inquires new functionalities of soft matter exploring the architectures, science, and manufacturing of natural powders and fibers, including proteins, polysaccharides, and alginates. Gutierrez's work centers on the interface and scalability gaps present from the nano and macro scale lengths in shaping new concepts and technologies in the design, engineering, and science of programmable natural materials. The presentation will address this frontier through her ongoing research integrating live organisms and natural materials, including Microengineered Lichen blocks and multiscale 3D printing/weaving of medicinal and flood-resistant cork waste panels.
Morning Speaker: 
Title: Guidelines for bio-inspired design that raises awareness about air quality
Elena Brebenel, M.F.A., Assistant Professor, Kent State University
Afternoon Speaker:
Amy M. Youngs, Associate Professor of Art, The Ohio State University
Image
Organizer: 
Margarita Benitez, M.F.A., Associate Professor, Kent State University
Image
---
Description: 
Wetlands provide many valued ecosystem services including wildlife habitat, flood mitigation, and contaminant filtering. The United States has lost up to 80% of its wetland acres to drainage and development. The state of Ohio alone has lost 90% of its wetlands since the late 18th century. In human-dominated landscapes, many, if not most, current wetlands are the result of enhancement, restoration, or construction. Design and Science both play prominent and potentially interrelated roles in wetland design projects. The ecological status and function of Designed Wetlands is an active area of research. Strong integration between the design process and scientific understanding and monitoring are critical for successful enhancement and construction of wetland ecosystems. This session will engage individuals and organizations from across the spectrum of design, management, and research to interactively discuss the benefits and opportunities of interdisciplinary design, management, and monitoring teams, using specific wetland construction projects as case studies.
Morning Speaker: 
Lauren McPhillips, Ph.D., Assistant Professor, Pennsylvania State University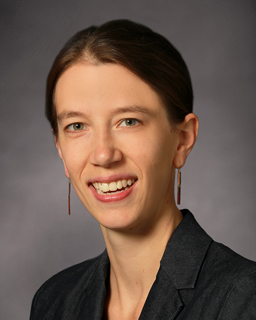 Organizer: 
Lauren Kinsman-Costello, Ph.D., Assistant Professor, Kent State University
Sponsor:
---
Description: 
Naturally occurring ecosystems which are structurally analogous to urban habitats can provide inspiration and insight into creating better functioning cities. For example, plant and insect communities that occur on cliffs or thin soils can give insight into how- and what- to grow on locally adapted, hardy green roof and wall projects that provide habitat for local insects and animals in urban systems. This session takes a deep dive into understanding how the Great Lakes bedrock prairies, rock outcrops, alvars and other uncommon native ecosystems can be better studied for translation to the design fields for a more sustainable future.  Designers and scientists in the session will discuss current efforts: what ecosystems being studied for translation; how they are being studied and translated through new projects or proposals using a habitat template approach.  This session will help participants understand how buildings and cities can be designed to be more regionally contextual and ecological productive. The session will also feature students who will be presenting lightening round research topics with themed discussions. This session is offered in collaboration with the Greater Ohio Living Architecture Center (GOLA) https://www.golacenter.org/.
Morning Speaker:
Title: Built by nature: growing habitats in and out of cities
Christie Bahlai, Ph.D., Assistant Professor, Kent State University
Afternoon Speaker:
Title: Design life: Biodiversity conservation in constructed green infrastructure
 J. Scott MacIvor, Ph.D., Assistant Professor, University of Toronto Scarborough
Image
Abstract: 
Buildings and other infrastructure in cities are viewed as threats to biodiversity and ecosystem functioning because natural habitat is replaced. However, there is momentum for implementing green infrastructure, such as green roofs or wetland detention basins that partially offset impacts, and benefit human health. Green infrastructure is designed to explicitly support ecosystem services, including implied benefits to biodiversity. However, both local and landscape factors may determine the outcome. In different examples from Toronto, Canada from field-based research and meta-analyses to municipal strategy and completed case studies, we will evaluate the opportunities and pitfalls of constructed green infrastructure for biodiversity conservation.
Bio:
Scott MacIvor is a community ecologist and assistant professor in the Department of Biological Sciences at the University of Toronto Scarborough. He is interested in plants, pollinators (especially bees), their interactions in cities and across different urban green spaces. His work aims to support applications in urban design and planning that enhances biodiversity conservation. He collaborates widely with NGOs, architects, landscape practitioners and local communities to implement research findings.
Student Lightning talks*:
Anna Droz (Biology PhD)
Alan Brooker (Architecture/MSAED)
Lama Tawk (Biology PhD)
Haley DeRose (Architecture/MSAED)
Katie Manning (Biology PhD)
Meghan Blackson (Architecture/MSAED)
* Organized by the Greater Ohio Living Architecture Center (GOLA)
Organizers:
Christie Bahlai, Ph.D., Assistant Professor, Kent State University, and Reid Coffman, Ph.D, Associate Professor, Kent State University
---
Description: 
Addressing sustainable practices requires direct collaboration of individuals from multiple perspectives and backgrounds; at its core, sustainability is a complex and messy problem. It requires both systemic and intersectional solutions. This workshop will explore similarities and differences between two common approaches, the scientific method and design thinking, to encourage research collaboration, grant writing and other essential activities in support of cross-disciplinary and sustainable practices.  We will utilize the technique of finding your "superpower" as a means to discuss and reflect on creating powerful and impactful teams of people who are not like you.  Using the mantra of "great minds think nothing alike," we will expose the parallels and the points-of-departure between design thinking and scientific approaches to collaborative problem solving.  This workshop will help in re-framing how we might tackle the messy challenges of sustainable practices together. 
Facilitator: 
J.R. Campbell, M.F.A., Director, Kent State University